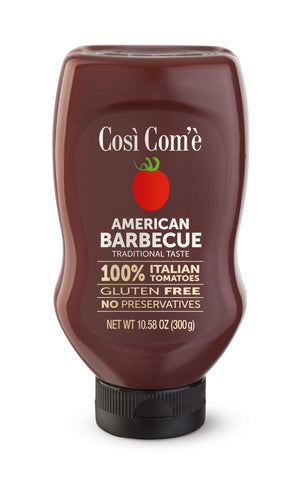 Gusto Italiano
American Barbecue Sauce 100% Italian Tomatoes by Così Com'è - 10.58 oz
Sale price Price $8.99 Regular price
- 100% Italian Tomatoes - Gluten Free - No Preservatives -
Typical American recipes combine high-quality Italian ingredients and flavors. This is how the traditional American barbecue sauce was born with Pizzutello tomatoes, it retains the perfect taste of the original tomatoes.
It is ideal for pairing with meat, side dishes and seafood, such as tuna steak, amberjack and in general blue fish, or other raw food.
Ingredients: Double concentrated tomato paste (34%), apple juice, molasses, water, sugar, wine vinegar, glucose syrup, modified corn starch, salt, garlic

Preservation
Store in a cool, dry place. After opening, if not entirely used, refrigerate (1÷4°C).
Così Com'è (Meaning "as they are") tomatoes come from Fianagricola, was founded in 1986 by a small 24-farm cooperative dedicated to cultivating local produce varieties. Nine members currently manage the 740 acres of farmland, which stretches across the fertile Piana del Sele of Campania in southern Italy. The cooperative was founded with one mission: to guarantee a pure, traceable Italian product, from seed to label.  As a large fruit and vegetable company, with the passage of time, it has continued to develop a real natural agriculture. Therefore, it can be defined as the largest" Italian vegetable garden".