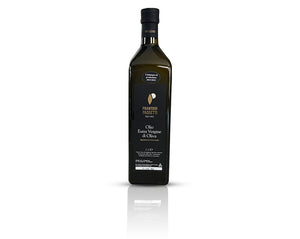 Gusto Italiano
Extra Virgin Olive Oil by Frantoio Paggetti (Tuscany) - 33.8oz / 1 Liter
Sale price Price $59.00 Regular price $69.00
Frantoio Paggetti Extra Virgin Olive Oil is made with hand-picked olives from Frantoio, Leccino, Moraiolo and Pendolino olives from the harmonious hills' outskirts of Arezzo, Tuscany.
Frantoio Paggetti Extra Virgin Olive Oil has a very low level of acidity, among chefs, Tuscan Extra Virgin Olive Oil is the stuff of legends, is one of the highest quality oils in the world.
Aroma:
It has a great intensity and aromatic complexity. Medium fruity with hints of grass, fresh herbaceous, artichoke and green almond.
Taste:
it has a medium intensity with notes of spiciness and slight bitterness, but not sharp. It is very soft with a long and persistent aftertaste, characteristics that distinguish an extra virgin olive oil coming from Arezzo, Tuscany.
Pairing Ideas:
Raw on salads, vegetables, soups, red meats, tomatoes sauce and classic bruschetta.
Olive Varieties: 
Frantoio, Leccino, Moraiolo and Pendolino.
NET WT.: 
33.8 oz / 1 liter
Preservation: 
Store in a cool, dry and dark place. 
Frantoio Paggetti: In Tuscany olive trees find their own perfect environment and climate which are fundamental to their growth and that make this land unique: sweet and sunny hills open up to our sight offering evocative images.
Just outside Arezzo and surrounded by such an enchanting nature Paggetti Family offers one of the land treasures since almost two centuries. History, experience and dedication to the making of extra virgin olive oil throughout 4 generations guarantee a superior quality product to the customers. It is Real Liquid Gold which is the result of choices that allow to preserve the goodness and balance of an extraordinary olive oil. Passion, tradition, love for the territory and its products, continuity and innovation represent Frantoio Paggetti fundamental principles and philosophy.