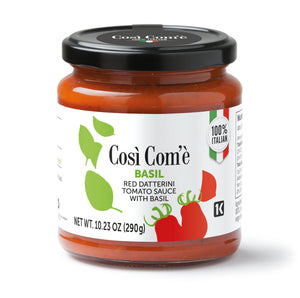 Gusto Italiano
Red "Datterino" Tomato Sauce with Basil by Così Com'è - 10.23 oz
Sale price Price $8.99 Regular price $0.00
-No Artificial Colors - No Preservatives- 
Our sauce combines red Datterino tomatoes and basil, showing the sweetness and rich flavor of Datterino, while the aroma of basil brings a simple but decisive taste.
Made with tomato juice and fresh tomatoes, it contains no preservatives and is an ideal condiment for the first course.
This is the perfect choice for those who don't have time to prepare fresh sauces but don't want to give up the authentic flavors of the basil-flavored datterino tomato sauce. Delicious, sweet and creamy, it enhances the freshness and rich flavor of freshly picked Datterino tomatoes, it is so perfect that it can be used in pasta, risotto, or any dish you like. 

Ingredients: Red "Datterino" tomatoes juice (83%), red "Datterino" tomatoes (12%), extra virgin olive oil, onion, basil (0.7%), salt.
Preservation
Store in a cool, dry place. After opening, if not entirely used, refrigerate and use within 3 days.
Così Com'è (Meaning "as they are") tomatoes come from Fianagricola, was founded in 1986 by a small 24-farm cooperative dedicated to cultivating local produce varieties. Nine members currently manage the 740 acres of farmland, which stretches across the fertile Piana del Sele of Campania in southern Italy. The cooperative was founded with one mission: to guarantee a pure, traceable Italian product, from seed to label. All tomatoes are non-GMO and free of preservatives, pesticides, sugar, and stabilizers.
Although we like to use Così Com'è tomatoes to make fresh sauces for our pasta, like our "Spaghetti with baby octopus and red datterino tomato sauce with basil", the authentic flavors of the basil-flavored datterino tomato sauce gives this dish the freshness and rich flavor.