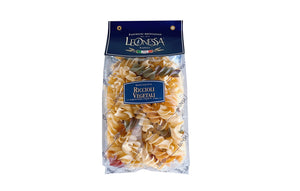 Gusto Italiano
Riccioli Vegetali Pasta by Leonessa - 500g/1.1 LB
Sale price Price $10.99 Regular price $0.00
Riccioli Vegetali contains three kinds of durum wheat semolina pastas made with beets (red), spinach (green), and tomatoes (orange). 
Very similar in shape to fusilloni, rotini spiral, and rotelle pasta, the Riccioli Pasta is formed into many layers of ridges, spaced closely together that spiral upward. Because of its unique shape, it is good pasta for holding a variety of different pasta sauces.
Ingredients:
Durum WHEAT semolina, water, if green with spinach 23%,if orange with tomatoes 23%,if pink with beets 23%.
Cooking Time:
14-16 minutes
Package: 
500 G / 1.1 LB
Region:
Naples, Italy
Producer:
Pastificio Artigianale Leonessa