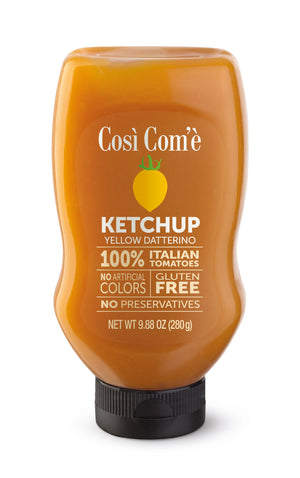 Gusto Italiano
Ketchup Yellow Datterino Tomatoes 100% Italian by Così Com'è - 9.88 oz
Sale price Price $8.99 Regular price $0.00
- 100% Italian Tomatoes - Gluten Free - No Artificial Colors - No Preservatives- 
This yellow Datterino tomatoes ketchup have a sweet taste, a very subtle flavor and a bright yellow color.
It is made from 100% Italian tomatoes, gluten-free, no added preservatives or pigments, and is a novelty for the eyes and palate.
Due to its very pronounced sweetness, it is very suitable for particularly delicious dishes, such as fried fish, fried vegetables, tartare, appetizers, finger food, and sea food.
Gluten Free - No Artificial Flavors - No Preservatives
Ingredients: "Yellow Datterino" Tomato purée (78%), sugar, apple cider vinegar, modified corn starch, salt, garlic, onion, flavors. 

Preservation
Store in a cool, dry place. After opening, if not entirely used, refrigerate (1÷4°C).
Così Com'è (Meaning "as they are") tomatoes come from Fianagricola, was founded in 1986 by a small 24-farm cooperative dedicated to cultivating local produce varieties. Nine members currently manage the 740 acres of farmland, which stretches across the fertile Piana del Sele of Campania in southern Italy. The cooperative was founded with one mission: to guarantee a pure, traceable Italian product, from seed to label. All tomatoes are non-GMO and free of preservatives, pesticides, sugar, and stabilizers.