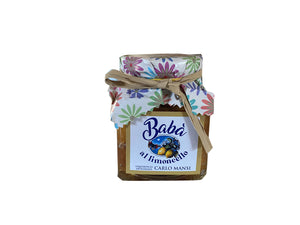 Gusto Italiano
Babà Al Limoncello (Cake in Limoncello Syrup) - Contain 12% Alcohol
Sale price Price $11.69 Regular price $12.99
These delicious little sweet yeast cakes known as babà is the traditional Neapolitan cake saturated in liquor. It's very popular in Italy and it is often filled with whipped cream, crema pasticciera (custard cream or pastry cream), or cannoli cream. Sometimes it is simply oozing with syrup.
Our babà is the specialty of Amalfi Coast, we like to soak them in one of that region's signature liqueurs — Limoncello. The babà in vibrant limoncello syrup, which provided you two treats in one thanks to the unique flavor of the traditional Neapolitan cake and fragrances of the most classic after dinner drink.
Carlo Mansi is the first Limoncello producer in Amalfi Coast, use local Lemons, hand peels lemons, provide you the unique and big flavor that you will immediately fall in love with it.
Ingredients:
babà (type "0" flour, eggs, vegetable margarine, sugar, salt, yeast, preservative E282, natural flavors), Syrup (rehydrated alcohol (12%), sugar, lemon peel infusion)
Preserve: 
Once opened, the package should be kept in the fridge
Produced and packed in Italy by: 
CARLO MANSI
NET WT.:
10.58 oz (300g)