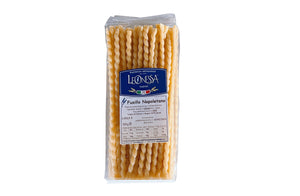 Gusto Italiano
Fusillo Napoletano Pasta by Leonessa - 500g / 1.1 LBS
Sale price Price $9.99 Regular price $0.00
The Leonessa Fusillo Napoletano keeps the ancient Neapolitan tradition, Leonessa repeats classic Neapolitan formats, mixing with the same skill that once the simplest ingredients, only water and durum wheat flour, but using the most modern manufacturing techniques. 
Fusillo Napoletano is a particular form of pasta, which was once produced by hand with "fusilli", the typical iron tool long about 30 cm around which a strip of pasta was wrapped and rolled up with decisive movements up to take the classic spiral shape. 
Today Leonessa, using the latest technology, reworks this old format, ready to get it arrive on the table for highlighting the most dissimilar sauces. 
The Leonessa Fusillo Napoletano contains two packages of durum wheat semolina pasta in a classic gift box, the pasta goes well with tomato sauce and Ricotta cheese. 
Ingredients:
Durum Wheat semolina, water
Cooking Time:
14-16 minutes
Net Weight: 
500g / 1.1 LB
Region:
Naples, Campania, Italy
Producer:
Pastificio Artigianale Leonessa