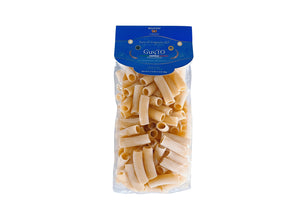 Gusto Italiano
Rigatoni di Gragnano IGP by Gusto Italiano - 500g/1.1 LB
Sale price Price $8.99 Regular price $0.00
Rigatoni is a short pasta format from Gragnano IGP, bronze-drawn, produced in the historic pasta factory in Gragnano, with an artisanal recipe using only 100% Italian wheat from the Frentane hills.
Rigatoni are a form of tube-shaped pasta of varying lengths and diameters originating in Italy. They are larger than penne and ziti, and sometimes slightly curved, though not as curved as elbow macaroni. Rigatoni characteristically have ridges down their length, sometimes spiraling around the tube, and unlike penne, rigatoni's ends are cut square to the tube walls instead of diagonally. 
Rigatoni is a particular favorite pasta shape in the south of Italy, especially in Sicily. Its eponymous ridges make better adhesive surfaces for sauces and grated cheese than smooth-sided pasta like ziti.
About Gragnano:
Located on a hilltop between Monti Lattari and the Amalfi Coast, Gragnano is celebrated for its air-dried, bronze-extruded pasta across the world.The city of Gragnano is said to make the best pasta in the world. This is mostly due to the city's unique positioning. Because it sits next to a mountain, the air is generally cool. The unique mixture of sun, humidity, and wind in the region combine to form the right conditions for growing a superior wheat product.
Ingredients:
100% Italian Durum wheat semolina and water. 
Cooking Time
8 minutes
Package: 
500 G / 1.1 LB
Region:
Gragnano, Campania, Italy