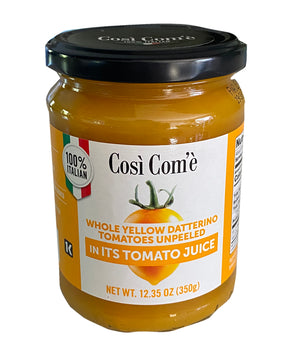 Gusto Italiano
Whole Yellow "Datterino" Tomatoes Unpeeled In Its Juice by Così Com'è - 12.35oz
Sale price Price $8.99 Regular price $0.00
-No Artificial Colors - No Preservatives- No Sugar Added - No Salt Added-
Preserved whole yellow datterino tomatoes in its juice, it is sweet with a rich aroma.
It contains whole yellow datterino tomatoes and its juice. The yellow datterino tomato is the true "ancestor" of the tomato, and the Italians coined the term "golden apple".  The yellow datterino is an extraordinary tomato with extremely high sweetness and low acidity as well as a bright yellow color.  When harvested, it appears in regular clusters of 14-16 fruits, the cylindrical shape is not well defined and uniform. It is rich in substances with high antioxidant capacity , which can neutralize free radicals. It also contains Vitamin C, A and B vitamins. Thanks to its absence of acidity and rich taste, the yellow datterino tomato is widely used in fish and seafood-based recipes, as well as for filling pizzas and appetizers.

Preservation
Store in a cool, dry place.
After opening, if not entirely used, refrigerate and use within 3 days.
Così Com'è (Meaning "as they are") tomatoes come from Fianagricola, was founded in 1986 by a small 24-farm cooperative dedicated to cultivating local produce varieties. Nine members currently manage the 740 acres of farmland, which stretches across the fertile Piana del Sele of Campania in southern Italy. The cooperative was founded with one mission: to guarantee a pure, traceable Italian product, from seed to label. All tomatoes are non-GMO and free of preservatives, pesticides, sugar, and stabilizers.
Although we like to use Così Com'è tomatoes to make fresh sauces for our pasta, like our "Linguine With Lobster Tails and Yellow Datterio Tomatoes", we could honestly eat them straight out of the jar! "I have a jar at my house all the time," says Vincenzo Coppola, owner of Gusto Italiano. "they're so sweet and fresh tasting."